26 Jan 2019 it's the first day of Safari Zone!
I didn't travel to Brazil, I just hunted around Selangor Area.
Kevin and I are from Kelantan, we miss our Kelantan food so much and we
decided to have breakfast at Capital Nasi Dagang Kelantan at Damansara Uptown. We both ordered Nasi Dagang Curry Chicken and a Roti Kahwin.
Image from thefoodbunny.com
As usual, what we do is on our Pokemon Go at home, and slowly drive around Putra Heights to Damansara Uptown, and keep catching Psyduck and Taillow because the shinny is released! (All the way no shiny) After satisfied our stomach, we head to IKEA Damansara, meeting friends and make some shopping before Chinese New Year.

On the way back, our conversation:
Kevin:

Someone just catch Shiny Psyduck at Damansara Uptown.
Joanne:

We were there but no shiny.
Kevin:

Ya lo.
Joanne:

Why not we go over later.
Kevin:

You want to go again?


Joanne:

Yup, after all we are passing by.
Kevin:

Okay.
Once we arrived Damansara Uptown, surprised came!




Yes! I caught 2

Shiny Psyduck

back to back at Damansara Uptown, and at this moment my eggs hatched back to back

Riolu

! Double Lucky!
When I reached back to Putra Heights, I caught another

Shiny Psyduck

~ Gosh! Really it's my "Itik Day" mean's Duck Day! (Itik is Duck in Malay)
After a good nap, I went for Kyogre raid, guess what? I caught

Shiny Kyogre

! I want Shiny Kyogre so badly as raided for 67 times, this is my 2nd

Shiny Kyogre

. 1st

Shiny Kyogre

was caught a day before after so many raids, but yesterday was not raid by me, thanks to Kevin helped as I full day was busy with events. What a lucky day!
27 Jan 2019 - second day of Safari Zone!
We headed to Cheras to have breakfast with relatives. Sunday is family day, make sometimes for your family, don't get addicted over the game too much; know how to balance them. Along the way to Cheras, we still hunt of Psyduck and Taillow, but please bear in mind, if you are driving, please stop playing; drive safe, unless you are using Pogo Plus/ Go-tcha Wristband/ Poke Ball Plus.

We had Dim Sum as breakfast
at Grand Imperial, Sunway Velocity Mall. Breakfast & chit-chat, it's surely a warm combination.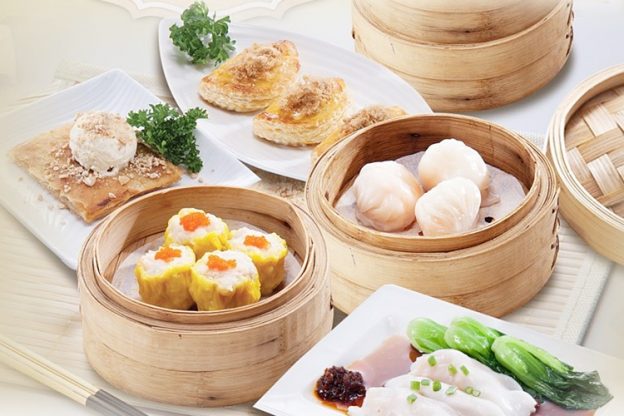 Image from blog.tableapp.com
After breakfast, they decided to find out where's the location of Air Kolam Panas Hulu Langat. Kevin and I just sit back and catch our Pokemons ... hahaha ... After all we are not rushing to anywhere. Kevin finally caught his 2nd
Shiny Psyduck
.
Once we leave Sunway Velocity, I caught a
Shiny Psyduck
, it's my 4th
Shiny Psyduck
, (Kevin was like WTH?) I know, right? After all I have enough of
Shiny Psyduck
, now I want shiny Taillow. I know a lot of you still don't own any
Shiny Psyduck
, don't stop catching or you want to trade Shiny Taillow/ Shiny Driftloon with me. (Please do PM me)
In the evening, we meet up with a friend of mine at Damansara Uptown. Damansara Uptown, it's a good place for Pogo trainers to grain pokemons, collect Poke balls, and raids.
We had our dinner at
Long Time Ago, The Starling Mall
. It was our first tried on their Sesame Oil Noodle (Soap/ Dry), not bad with the price of below RM10 per bowl.
We went to raid Groudon after our dinner. 20 accounts in a lobby, Kevin is in another lobby, also 20 accounts. Wow! A lot of players around here. Another surprise ~ My friend and I caught Shiny Groudon! Wohooo ~! It's my second
Shiny Groudon
.
After grain for hour, no shiny found and we tried the latest SoyLab than Yum Cha at Starbucks before we leave Damansara Uptown. While on the way to SS2 to drop my friend, I caught 2
Shiny Psyduck
. They hates me, I know ... It just happened. LOL!
This is my friend's phone
Total I have 8 Shinnies in 2 days, 6
Shiny Psyduck
, 1
Shiny Kyogre
, and 1
Shiny Groudon
. Don't give up and keep catching!
Read on and you might win yourself a Go-Tcha Wristband.
Like, Tag, Share & Win Contest
Step 1
Like Joanne Wee's Journey Facebook Page
https://www.facebook.com/joanneweejourney/
Step 2
Subscribe on
joannewee
YouTube Channel
https://www.youtube.com/c/joannewee
Step 3
Tag 3 friends and Share this post on your Facebook Post
(Make sure your profile it's set public)

One Winner will walk away with the
Go-Tcha Wristband
You Might Be The Winner!*
Go-Tcha sponsor by JW Shop, JW Solutions
Which allows you to share and tag as many times as you want. This means the more you share and tag, the better your chances of winning will increase. The giveaway will run for 3 weeks from 21 January to 22 February 2019 at 11:59 PM MYT, after I will announce the winner on Joanne Wee's Journey Facebook Page on 24 February 2019.
*Terms & conditions apply:
1. Contest valid once
Joanne Wee's Journey
Facebook Page it's hit 1,000 likes.
2. Contest valid once
joannewee
YouTube Channel hits 500 Subscribers.
3. 1 Winner will will be selected.
4.
Winner will be announce on Joanne Wee's Journey Facebook Page on 24 February 2019.
5. This contest open to Malaysian addresses only.